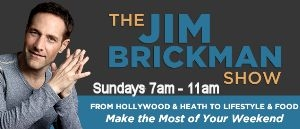 Jim Brickman's romantic piano sounds have earned him six Gold and Platinum albums, and two grammy nominations.  He has thrilled concert audiences around the world, even writing two best-selling books along the way.  Since 1997, he has hosted a popular weekly radio show that has grown in popularity, and now it's heard across America.  It's a positive, heart-felt radio show that has endeared his long-time fans, and has made many new friends along the way. 
Your Weekend with Jim Brickman blends adult contemporary music, lifestyle features, celebrity interviews and entertainment reports.  Take some time to focus on you, and let Jim bring some focus to Your Weekend.
Click here for more Jim Brickman news!